Northwoods Drift Rally
Press On, Irregardless
The Strange and Frustrating Tale of the 1999 Northwoods Drift Rally
by Jon Anderson
(Click on small photo to view larger photo.)

Prepare to hear a tale of hardship, treachery, and woe, whereby one arrowhead, one small, misplaced arrowhead on a tulip diagram caused chaos and consternation, the like that usually ends with an angry lynch mob doing unspeakable things to a poor sap of a rallymaster.

And then there were Eight...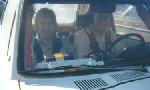 J.B. Niday (right) & Al Kintigh get comfy in J.B.'s soon-to-be-ornery Fiesta.

The rally started with an impressive group of nine vehicles, including three PRO Rally cars, on a warm, sunny February afternoon, So warm that most of the roads had no snow at all, except for the more shaded forest roads which were covered with ice.

Things went awry on the odometer check. An incorrect Tulip Diagram on the second page of the instructions had the rallyists go straight at an intersection instead of turning left. Gary Starr and Bill Tifft, who had set out first, followed the instructions as best they could, but being on unfamiliar roads, by the time they figured out where the end of the odo check was, they were hopelessly behind schedule and had to give up.

All the other rallyists were bunched up enough to pull over for a meeting of minds. Having a few locals in the group proved helpful, and they were all back on course, albeit several minutes down. Needless to say, the first Leg was thrown.

From here on, it's smooth-- What the?!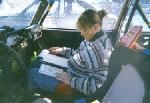 Brenda Corneliusen pours over the route book and gets used to co-driving in a Saab prior to the start.

The rallyists completed Leg 2 (Hermantown and Esko) without much difficulty. There was a short Transit through Cloquet, and they were just hitting their stride when, contrary to the route instructions, there was a huge trench where the road should have been, accompanied by several "ROAD CLOSED" signs.

Another meeting of minds was convened. A map was brought out, and the competitors were forced to be very clever and find an alternate route. Which they did.

I was unable to act as Car Zero and run the first Legs of the Rally because I had to man that hard-to-find Control near Brimson. Control Three. The one just after the closed road. I was going to hear about this.
Eventual winners Irwin and Schmidt leave a control.

I waited until half an hour after the first car was to arrive before it actually did. It was the Ford Ranger of Jachimstal/Bialas. They were very pleased with themselves, because after their improvised detour, they were the only team still on course. Eventually everyone sorted themselves out and made it to the Control. Needless to say, Leg Three was thrown.

Control Four was in Floodwood, just before the first break. It was decided to regroup after the break and send the cars out in order, starting at 5:30 -- 40 minutes after they should have left.

Two-Thirds to Go...
New Maximum Density Racing Team logo. S.G.R. stands for Scuderia Grosso Ragazzo (Stable of Fat Boys).

The first third of the rally had been close to being a disaster. I was guardedly optimistic about the rest of it. I had read through all of the route instructions and determined that there were no more mistakes. So it was up to the competitors...

Immediately out of Floodwood the rallyists were confronted with the Hedbom Forest Road, a 15 mile, single lane Slip-N-Slide with eight foot dropoffs on either side and some tight, unexpected curves thrown in at random. Everyone made it.

The rally hit its northwestern terminus at Wawina, one of those places that's just a word on the map. Interesting roads, though. From there, it was back towards Floodwood and break number two. This was shortened to ten minutes to try to make up for lost time.

After the break, it was Paupores, Brimson again, Industrial Township, Hermantown, and back to Duluth from the northwest, ending very near where it should have started if things had gone smoothly oh-so long ago.

Overall winners and first in Class A were - who else - Steve Irwin and Phil Schmidt in the familiar white Impreza. These guys own the Winter Rally Series, I think. Class B honors went to Tim Winker and new co-driver Brenda Corneliusen in Tim's PRO Rally Saab 99. The never-say-die lokel yokel team of Bill Taylor and Mike McConnell captured Class C with flying colors.

Apologies and Disclaimers.
RM Jon Anderson looks sufficiently weary after the rally. (That's the back of Tim Winker's head, if you must know.)

First, I want to apologize to the competitors about the incorrect instruction, and for not knowing the road was going to be closed, and for losing a car, but I do come from a broken home and I haven't been well lately and my dog ate the first draft of the rally.

That being said, thanks to everyone for showing up. Thanks to the workers, Mssrs. Jokela, Enberg, Strohm, and the Kintighs for staying out a little later than I had planned; thanks to Mark Glad and the staff at C.W.Chips restaurant for all their hospitality, and thank God it's over!

Jon XOXO
---
"That can't be a chicken coop! It's a sedan!"
---
Northwoods Drift Rally
Arrowhead Sports Car Club
Feb 13, 1999
Official Results

OA  Cls   Driver / Navigator                 Car              Total
1   A-1   Steve Irwin / Phil Schmidt         Subaru Impreza     10
2   B-1   Tim Winker / Brenda Corneliusen    Saab 99            63
3   B-2   Matthew Jachimstal / James Bialas  Ford Ranger        82
4   C-1   Bill Taylor / Mike McConnell       VW Fox Wgn        108
5   B-3   Mark Utecht / Diane Sargent        Dodge Omni GLH    113
6   B-4   J.B. Niday / Al Kintigh            Ford Fiesta       116
7   B-5   Paul Moorman / John Niemi          Audi Quattro      273
8   C-2   Danny Page / Scott Hughes          VW Jetta          423
9   A     Gary Starr / Bill Tifft            Honda CRX         DNF

Rallymaster   Jon Anderson
Workers       Mark Strohm, Alex and Nick Kintigh, Randy Jokela, Brad Enberg
Distance      230 miles

---
Wink Timber Media Agency
Created: 02/16/99