Minnesota Winter Rallye 1998
story by Tim Winker
photos by Randy Jokela
For awhile it appeared Northern Minnesota might have a winter without snow. Snowfall during December was minimal, and Rally Mistress Diane Sargent was able to pick some very fun roads that might not normally be plowed. Alas, a few weeks before the MWR '98, much snow did descend and several promising twisty and otherwise interesting routes in the area of Finland and Isabella had to be deleted from the proposed course because they were unplowed and/or overrun with snowmobiles. Fortunately, that shortened the overall distance, which allowed for a post-lunchtime start and early evening/dinnertime finish. It also made the roads much more "winter" like. That same snow brought snowmobilers out onto the roads, the lack of an early snow season apparently giving them the right to break the law in January, which made some snowcovered roads - particularly Rossini Road - rather rough.

This year's MWR was sanctioned by Land O' Lakes Region of SCCA and was the first event in the SCCA Central Division Road Rally Championship as well. That helped to improve the entry list with several teams from the Twin Cities, as well as LaCrosse and Frederic, Wisconsin, and one team from Houghton, Michigan. Among the competitors were 1997 SCCA National Course Rally Champions Scott Forehand and Dave Fuss, and other regulars from the National circuit including John Emmons and Lois Van Vleet, J. B. Niday and Al Kintigh, and Gary Starr. The only ASCC team to participate was Larson/McConnell, after the early entry of Jokela/Anderson was forced into a DNS by illness.
The course took rallyists up Seven Bridges Road in Duluth and north into the first control. From there the course stayed pretty close to Pequaywan Road (Co. Rd. 44), with the intent of minimizing the workers' distances between controls. Someone forgot to tell the workers, and Monsieur Winker in the course opening car had to set up to work several controls to confirm that there would be times for the competitiors when they arrived. All in all, however, there appeared to be no serious glitches at the controls.
The rally course wound its way east on Fox Farm Road, then northwest on Drummond Grade, a short loop to Hypo (not a Typo) Creek Road, then to Toimi. Back from Toimi the rally teams again looped down Hypo Creek from the opposite direction, down Pequaywan to the ever popular Rossini Road (the closest thing to PRO Rally thrills on this event), then back west on Fox Farm. Getting back to Proctor presented RM Mlle. Sargent with a bit of a problem as there isn't much exciting between those points, but a DIYC and a CAST 15 loop past Archer Motorsports kept teams on their toes.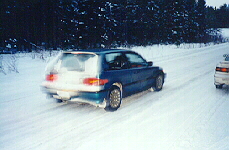 Speeds must have been reasonable as several teams were able to keep their scores under 5 points (3 seconds) maximum on a leg. The winning team - Niday and Kintigh - averaged just over 1 point per leg! It was only 14 more points back to fourth place and the Class S winning team of Forehand and Fuss. Only one car fell off the road during the event; Gary Starr kept his MWR record intact when he found a soft "road" while avoiding an oncoming pickup. The pickup driver was kind enough to help extract the sunken Honda and the team continued without damage or further incident.
The MWR finished at Blackwoods Restaurant in Proctor about 7 pm, allowing teams to have a bit of dinner before they hit the road for the long journey home.
By the way, the chorus to Indian Lake (referenced in the Route Instructions just past the rest break at Hugo's) as sung by the Cowsills:
     Indian Lake is the scene you should make with your little one.
     Just keep it in mind if you're looking to find a place in the summer sun.
     Swim in the cove, have a snack in the grove or you can rent a canoe.
     At Indian Lake you'll be able to make the way the Indians do....

MWR '98 - Official Results

Class A/E
1-T  J.B. Niday*/Al Kintigh*          Eagle Talon         14
2    John Emmons*/Lois Van Vleet*     Honda Civic         19
3    Phil Schmidt/Steve Irwin         Toyota MR2          27
4    Gary Starr*/Brad Odegard*        Honda CRX          117

Class B/L
1    Paul Moormann/Suzanne Wootton    Audi Quattro       327

Class C/S
1-T  Scott Forehand*/Dave Fuss*       Audi S4             28
2    Tobin Goetz/Dean Bitle           Isuzu Stylus       227
3    Todd Larson/Mike McConnell       Mazda PU           351
4    Matt Jachimstal/James Bialas     Ford Ranger        549
5    Tim Bleed/Don Nyren              Ford Ranger        692

     * = SCCA member (for LoL and CenDiv points)

MWR 98 Officials
Chairman - Tim Winker
RallyMaster - Diane Sargent
Control Workers - Bill Taylor, Dana Goetz, Roger Johnson, Mark Strohm.
Sweep - Ken Cich, Jay Talarico.

---
ASCC Winter Rally Series 1997-1998
Results, stories, photos of individual events
'97 Sno*Fall
'98 Northwoods Drift
'98 Keweenaw Winter Rally
1998-1999 ASCC Winter Rally Series

---